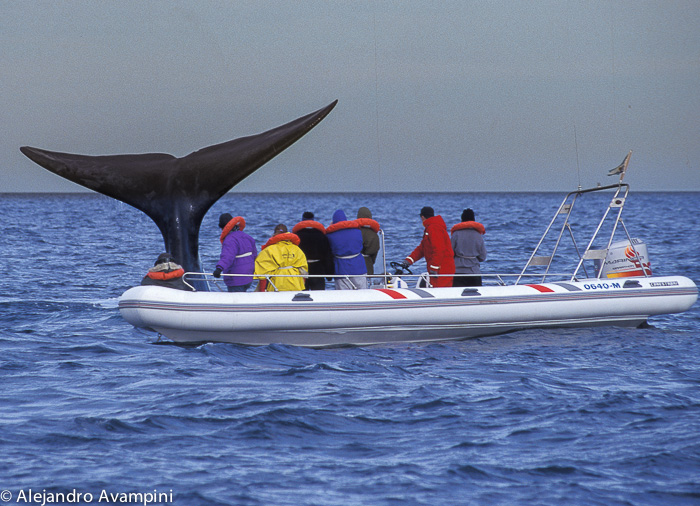 The Valdes Peninsula is, by far, one of the best places in the world for the observation of whales, where the concentration of individuals per square kilometer is extremely high. During the 2013 whale season there were more than 1,1oo individuals counted in the month of September, the month of highest concentration in what is an extensive whale watching season, from June to December. This species, The Southern Right Whale (Eubalaena Australis) has an annual increase of approximately 7%, meaning that we should expect some 70 whales more with each season.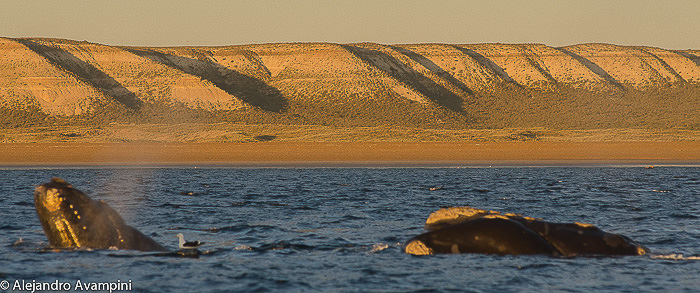 The whales have understood, for millions of years, the luxuries offered by certain topographies and here in the unique geographic formation of the Valdes Peninsula they are at home. They have chosen this natural refuge for protection from the raw angry seas of winter that engulf their feeding grounds further south. The geographic anomaly of the Valdes Peninsula with its two enormous gulfs full of small sheltered bays has its own micro climate, providing an ideal location for the Southern Right Whales reproductive behavior. Each year, from fall through spring, these whales travel from their feeding grounds in Antarctic and Pre-Antarctic region to spend months here in the Peninsula.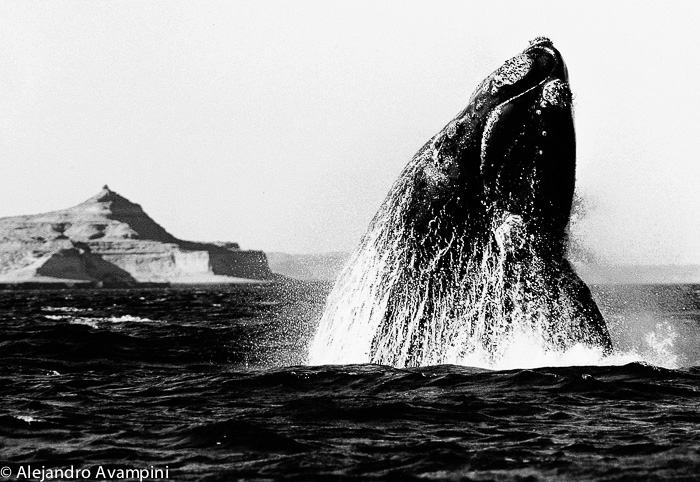 These two very distinct periods can be observed in the whales over the whale watching season. In the southern feeding grounds they will spend approximately 3-4 months feeding until they begin their migration north to the reproductive region along the Patagonian Coast. Upon arrival they are enormous! This can be perceived through simple observation. The surface area that remains out of the water is much greater and their girth is much wider than towards the end of the season. With pregnant females this is even more obvious, due to the baby she carries in her womb that can be born with as much as 5,500kg.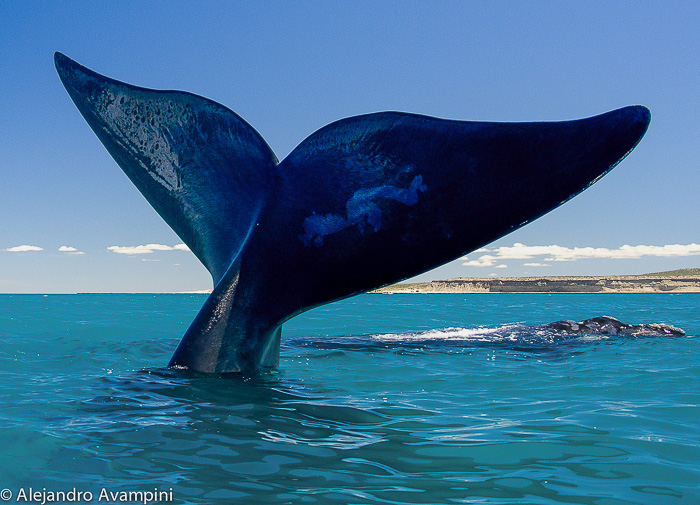 Aside from the immense space in which the whales are distributed throughout both the San Jose and Nuevo Gulfs, to speak of the whales of the Valdes Peninsula is to speak of Puerto Piramides. An oasis in the desert, Puerto Piramides is the place where man meets the sea. A hidden corner of Patagonia that serves as the ideal base for organizing encounters with the wildlife of the region. As well when speaking of whales of the Valdes Peninsula, El Doradillo beach must be mentioned. This peculiar beach, close to Puerto Madryn, is known for the grouping of many mothers and calves close to its shores.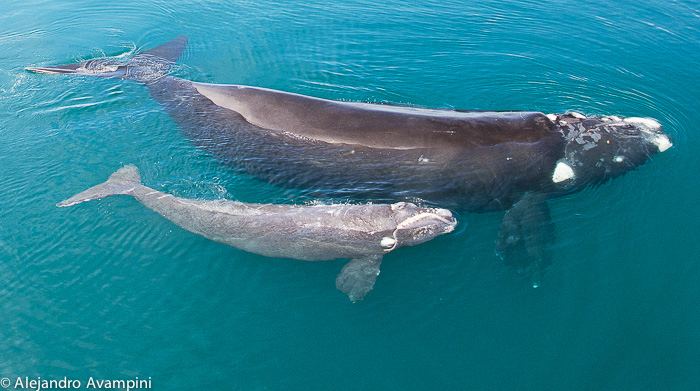 El Doradillo and the other surrounding beaches just north of Puerto Madryn seem to function as the most popular nursery. Dozens of mothers will group along this coast with their calves during the calves first few months after birth. There are other species that, as well, choose specific parts of the Valdes Peninsula to carry out some specific phase of their yearly cycle. The whales that arrive are from the Southern Right Whale population (Eubalaena Australis). Their cycle begins with their arrival at the end of April and beginning of May. Usually the first sightings will be along the coast just south of Puerto Madryn, and day by day the sightings will increase until the whales begin to form groups. They have a certain pattern in their circulation of the gulf during their 8 months of presence in the area, with the largest concentration grouping along the northern edge of the gulf, near Puerto Piramides.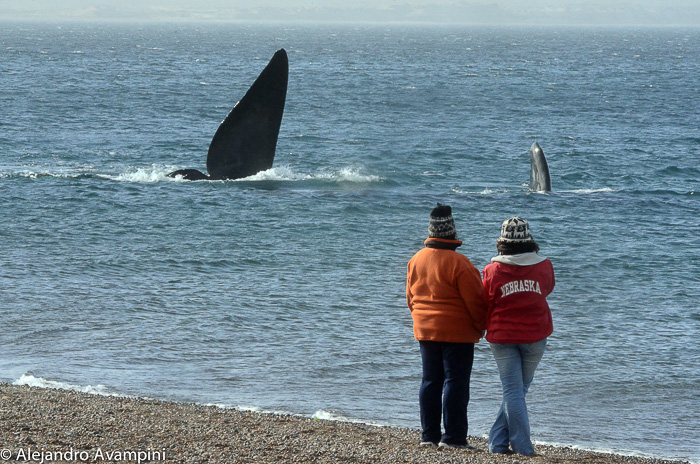 At the beginning of the whale watching season, between June and mid October, El Doradillo beach becomes one of the best places in the world to see whales up close from the coast (Months to enjoy excellent holidays) The whales come so close to the coast in this area that one can truly appreciate their size, often viewing animals less than 10mts from the beach. The primary characteristics of this area that attract the mothers with their newborn calves are a steeply inclined coast with cobblestone and pebble that quickly reaches a depth of 8mts., with excellent protection from the predominantly west and south west winds. These conditions allow the mother enough room for comfortably nursing her calf in calm waters, yet just shallow enough to impede the presence of males wishing to mate the female. For the most part, the whales of this species need between 15-20mts for mating behavior.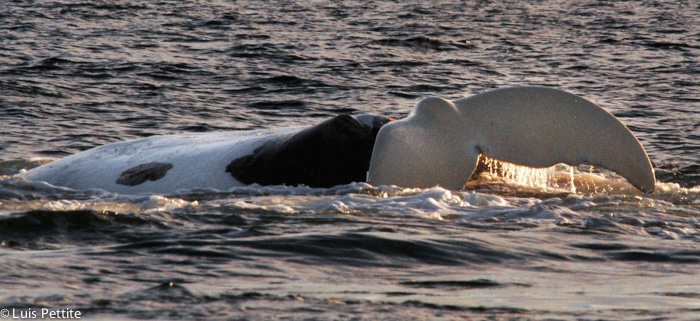 In 2012 a friend and colleague, Luis Pettitte, photographed the first birth of whales in history, a story that went around the world, being the first time that this document is achieved across the globe.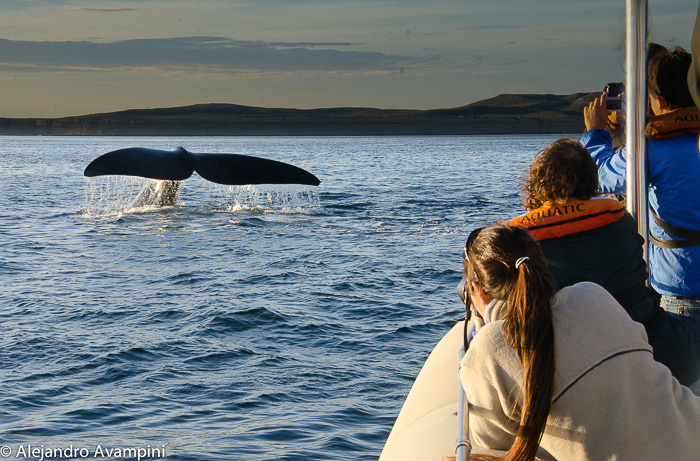 As adults these whales need no more than 4mts of water to float comfortably. Calves will nurse by holding their breath and moving just below the mother where her mammary glands are located, on either side of her vagina. Stimulated by the calf´s presence, the mother will slightly raise her fluke and peduncle better exposing her mammary glands. The mother will push her fat rich milk straight out into the ocean water. The calf will be waiting will its mouth open right next to the mammary glands and will capture the milk together with salt water. The calf will consume huge quantities of milk and will grow at a staggering rate during the first few weeks.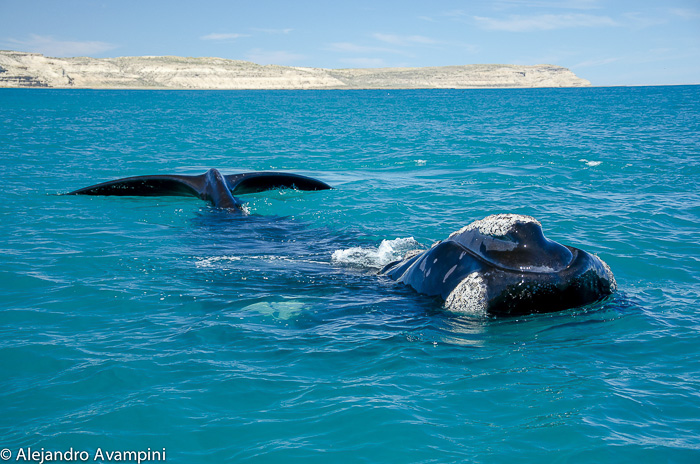 Being mammals, although marine mammals and with a shape and size greatly different from our own, we have a lot in common and spending time close to these amazing creatures on their terms in complete freedom, is an unforgettable experience.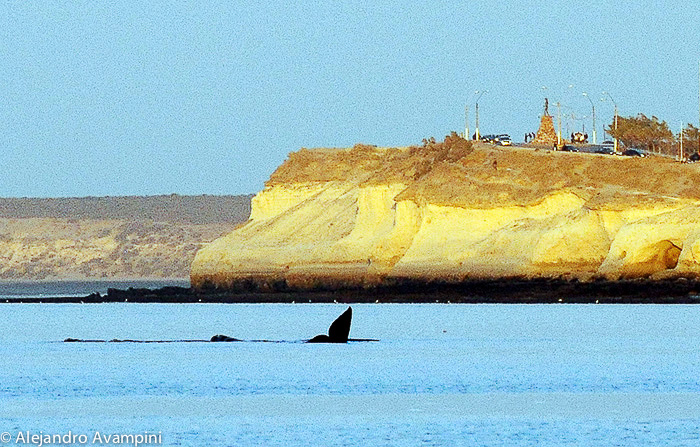 El Doradillo beach is a quiet and calm area just removed from the city. It is a public access beach that can be reached in any vehicle or excursion or even by bicycle from Puerto Madryn. Round trip from the city is 34km. If your destination is Puerto Piramides, making a visit to this beach before arriving to Puerto Piramides is a must.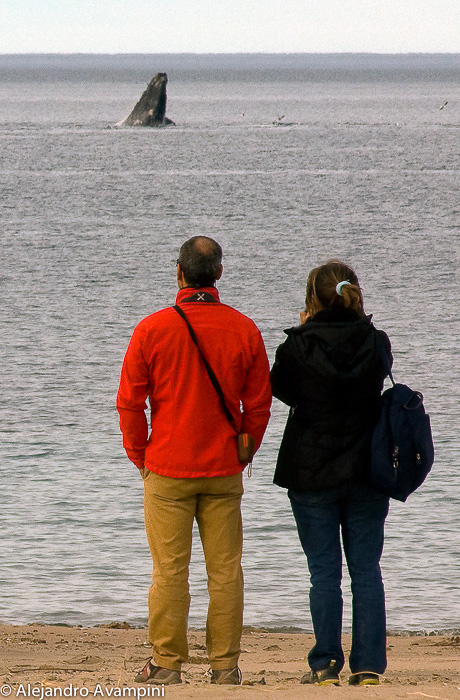 The road takes a slight detour from the normal route to Puerto Piramides, is a dirt road and not all that well indicated. Make sure you get good instructions before leaving Puerto Madryn. From Doradillo beach the same dirt road continues until reaching the provincial route 2 and your arrival to Puerto Piramides. With the arrival of September we will observe the largest concentration of whales of the entire season. Puerto Piramides, at this time, becomes, indisputably, the best place for the observation of these friendly and curios animals. The traditional whale watching tours aboard certified boats with experienced crews takes place from the beginning of June through the month of December. Puerto Piramides is the only port in Argentina that specifically offers Whale Watching tours. For this reason, when the inauguration of a new whale watching season begins, Puerto Piramides is always highlighted, as is seen in the following video when the 2014 whale watching season coincided with the world cup of football in Brazil.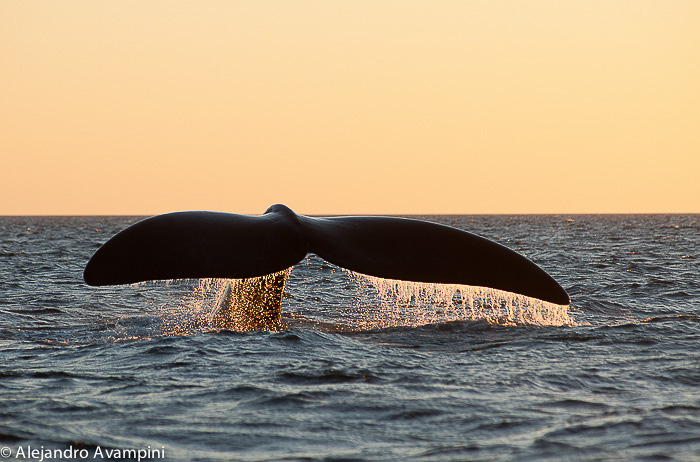 The weeks go by and the season continues into October and November with lots of whales and diferent behavior. The mothers that have given birth with be observed together with their calves, though now much skinnier than upon their arrival before giving birth. The females that arrived for mating will be observed in groups surrounded by males in one of the most uncommon and beautiful courting behaviors found in nature.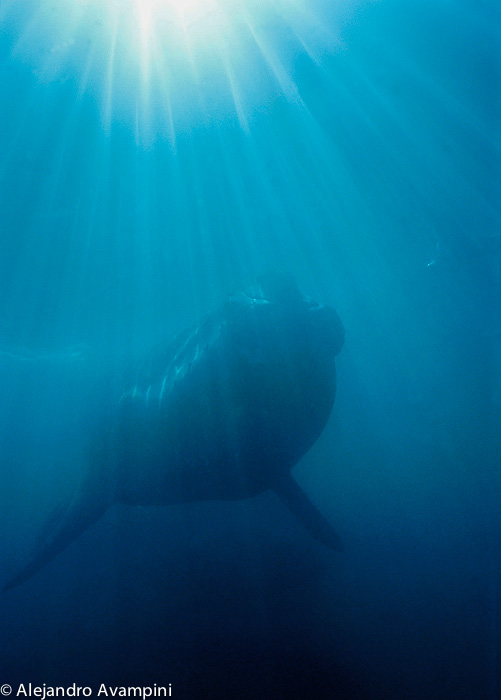 The mating behavior of the Southern Right Whale is normally carried out with one female and several males. The female will usually be held on the surface, on either side by 2 or 3 males while another male will mate her from below, belly to belly. This behavior can last for several days before mating is complete. Often the female will be observed belly up on the surface as a method of avoided the male´s advances. She will often hold this position for several minutes before having to breathe. The females that arrive after a 12 month gestation period will give birth to just one calf. The adult female will give birth to one calf every 3 or 4 years and in the mean time will be dedicated to the teaching and well being of there baby. The adults and juveniles will spend most of their time involved in the amorous and erotic courting behavior.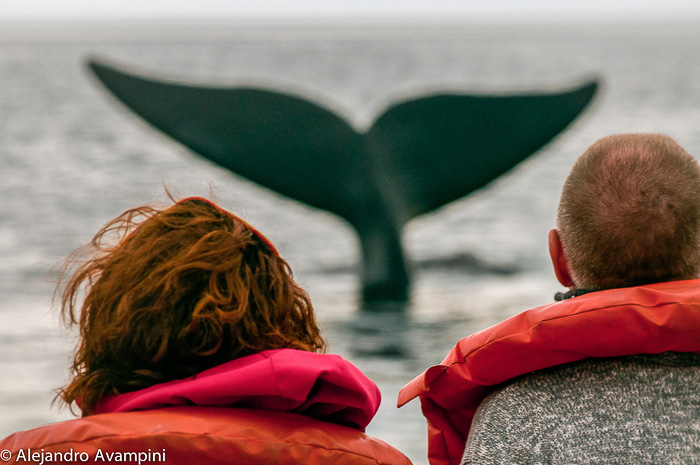 According to most theories, the promiscuous behavior of this species is due to the female literally collected sperm samples from the different males to be later fertilized by the strongest and most adequate individual. During their first year of life the calves will remain close to their mothers nursing and weaning. The next stage of the calf´s life, before reaching reproductive maturity, as sub adults, will be taken on without the mother´s presence.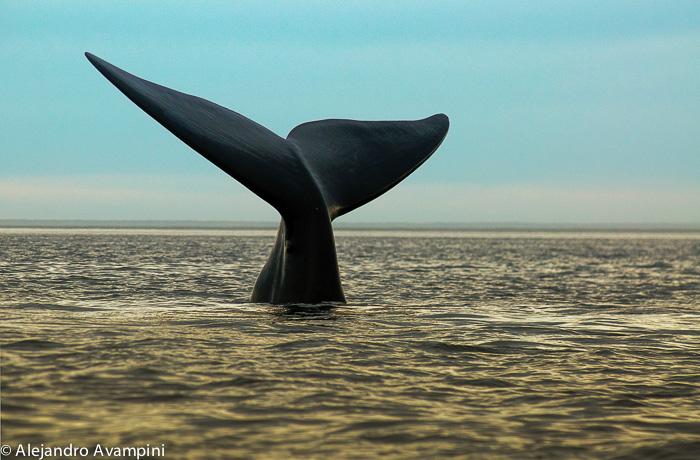 The beginning of December brings with it a noticeable departure of the whales. In the last few years there have been whale watching tours up through the first few days of January in the Golfo Nuevo, though at this time, sightings are not guaranteed and the excursions will often last several hours, travelling as far as the mouth of the gulf near open ocean. The photos published here in the different articles were captured aboard whale watching tour boats which operate every day, weather permitting, from Puerto Piramides, Valdes Peninsula.
A little bit of history about Man and the Whale: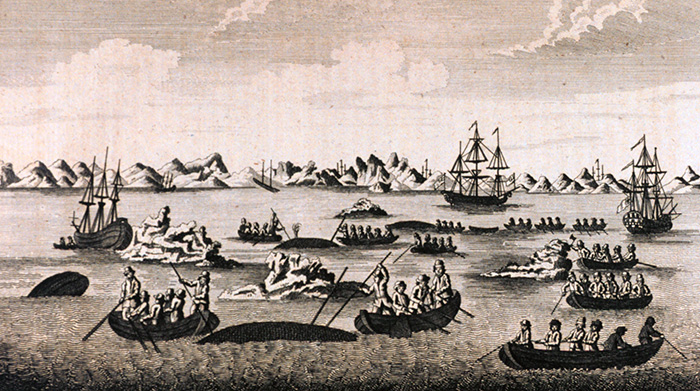 The Southern Right Whale is a warm blooded living being that has suffered man's industrialization of the world's natural resources. Over hundreds of years Man hunted and killed whales, sea lions and seals amongst many other species with the goal of using their fat, reduced to oil, for making candles and thus lighting the streets and homes of Europe and the colonized continents. Various parts of the whale's remains were also used in the making of frivolous cosmetic products. Their baleen filters, used by the right whales and all other mysticeti for feeding, were processed to make umbrellas, corsets and other massively consumed products.

It is estimated that the numbers of Southern Right Whale before the indiscriminant commercial hunting of these animals reached well over 50,000 individuals. With the discovery of petroleum, gas and electricity, these enormous marine mammals have, little by little, lost their importance in the industrial world. Many species were unable to survive the voracious consumer market. One such is the North Atlantic Right Whale, a species that occupied the Bay of Biscay in northern Spain and was similar to the Southern Right Whale.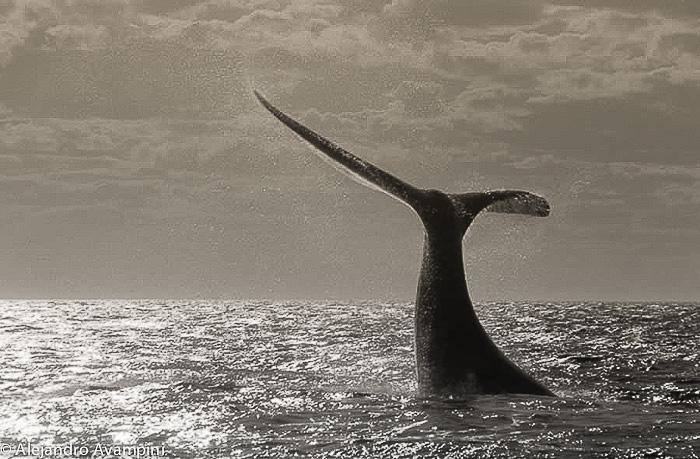 In 1937, when only several hundred individuals remained, the Southern Right Whale was provided total protection with the signing of the International Agreement for the Regulation of Whaling. From this point forward the recovery of the Southern Right Whale has been slow but sustainable. In 1984 this species was declared by the Argentine Republic as a National Natural Monument. Thanks to a change in vision and consciousness that the age of Aquarius as awakened, today the Southern Right Whale is observed by thousands of tourists in Valdes Peninsula aboard whale watching boats or from the coast, perceiving through new eyes the wonder of diversity that our small and fragile planet offers. It is a much more positive memory enjoying a photograph taken of the whales instead of a keratin umbrella made from baleen filters, just in case it rains! An amazing underwater video of the whales was uploaded to You Tube by the well known documentary cameraman, Luis Burgueno. The clip is published here and thanks to a variety of angles and the clarity of the water, these giant and adorable marine mammals can be viewed at home in the waters of the Valdes Peninsula.
The Universe of whale watching in Puerto Pirámides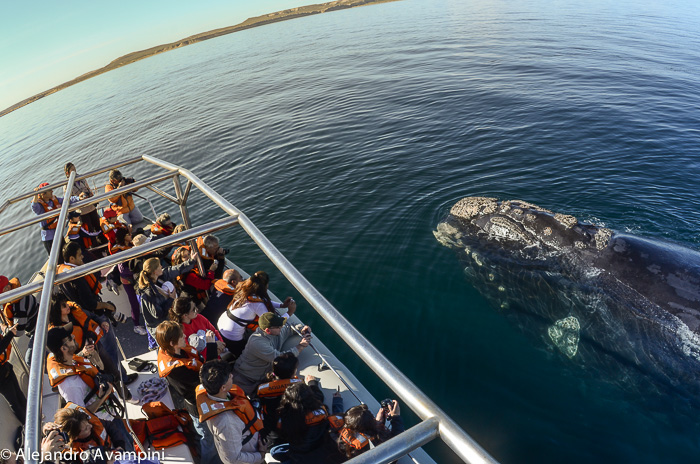 Most whale photos shown in the various articles were taken from the whale watching boats leaving every day of the week, only from Puerto Piramides in the Valdes Peninsula. So many launches are commemorated whale season or highlight the presence of Puerto Piramides. This video made in 2014, when he started the World Cup in Brazil.

This promotional video of the company's whale watching Jorge Schmidt, could not get off the page. Produced by Frank Wirth,
Companies that have licenses for whale watching are 6. They have good boats, enabled by Naval Prefecture Argentina, equipped with trained staff and liferafts. One company entered a boat with underwater windows, the Yellow Submarine, currently enables to have an underwater viewing whale and marine fauna.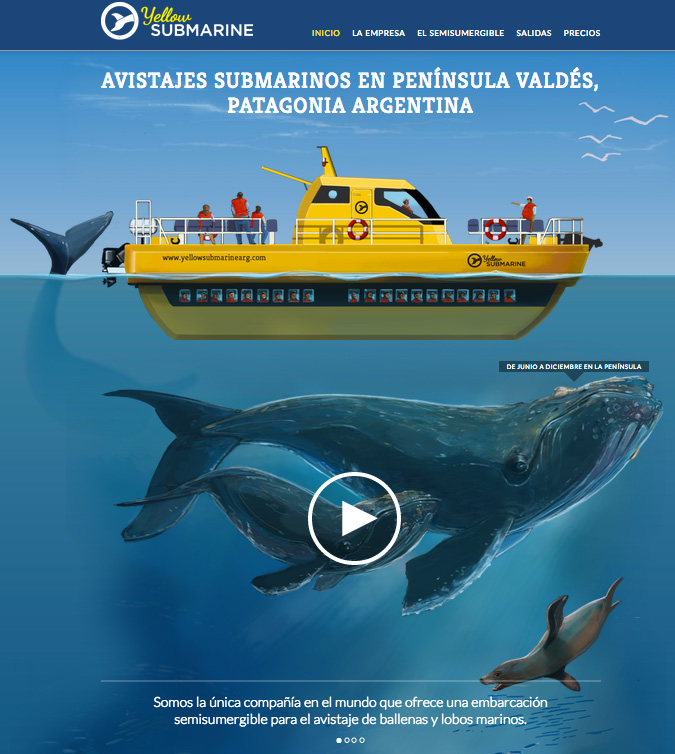 Whaling captains and guides
Several people in these 40 years have been captains and guides whale watching. I present some of the inevitable protagonists of the season watching in Puerto Pirámides. Key figures for tens of thousands of visitors have a close contact with the largest animals on the planet.
Marinao Van Gelderen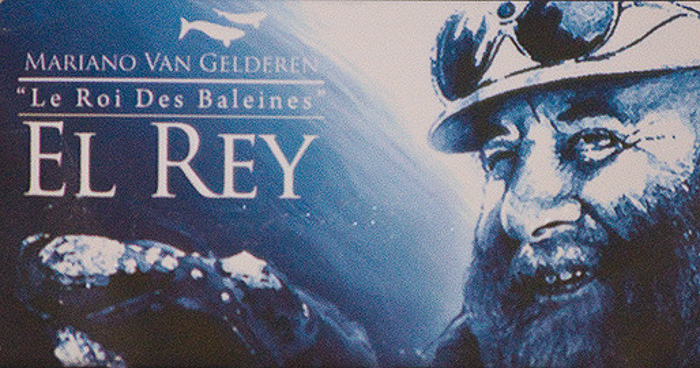 Mariano Van Gelderen is an alive legend of it. He has an important skill that has helped him to be always one step advanced : he knows how to observe, plus he has knowledge about what he talks about. Incurable bohemian, uses his verborragic personality to always give alerts in environmental areas and telling how things should be. In this small article while we summarized in a few lines its last 40 years in Valdes Peninsula, we try to do a tribute to him as a pioneer of the revolution that tries to bring us back to consciousness and cheer us to "Return to the Nature". Nowadays it is dedicated also to paint the patagonik fauna and its landscapes.
Pinino Orri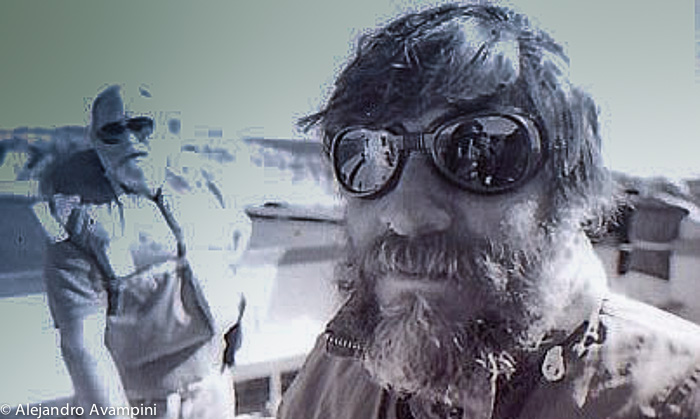 A charismatic figure usually found on the first of the two access roads to the beach in Puerto Piramides, Pinino Orri is a great host wherever encountered. Now dedicating most of his time to his business, Whales Argentina, Pinino stood out in his youth as a free diver, spear fisherman and open ocean swimmer. A reference in Underwater Salvage and Diving, Capitain and Whale Guide, Pinino is one of the creators in the Patagonian method for whale watching and cofounder of this important tourist activity.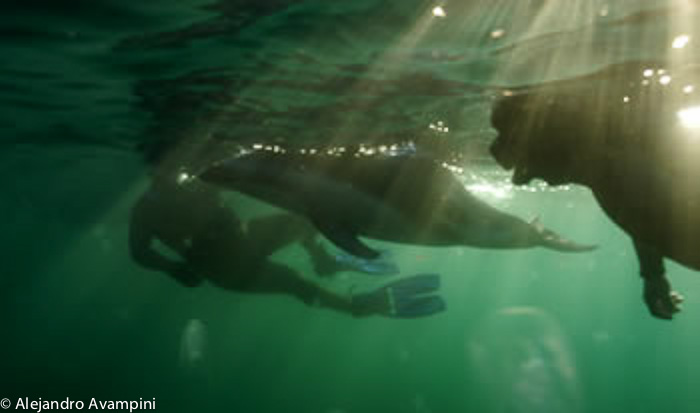 A few years ago we participated with a large group of individuals and foundations in the recovery and rescue of a dolphin that was stranded on the beach and he was one of those responsible to accompany him on reintegration into the dolphin to the sea.
Diana Visintini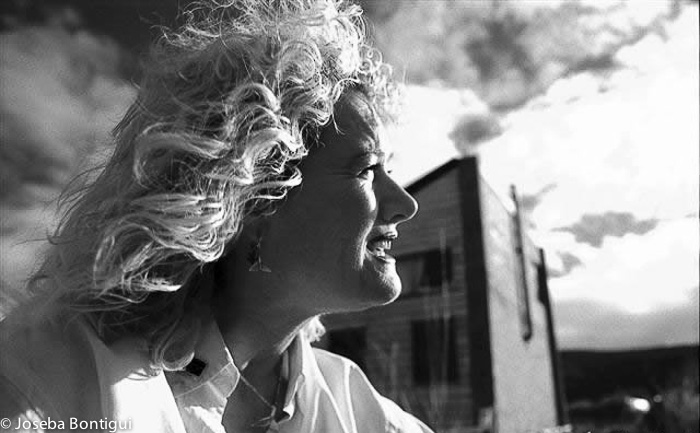 Diana Visintini An intuitive visionary, Diana Visintini received most of her maritime education here in the Golfo Nuevo and she knows how to comfortably insert herself into any maritime environment. Over the course of time she has earned her place and the admiration and respect of her colleagues. One of her most noted achievements, up to now, came in 2000 when she obtained the title of "First Female Whale Guide in Argentina".
Sofia Benegas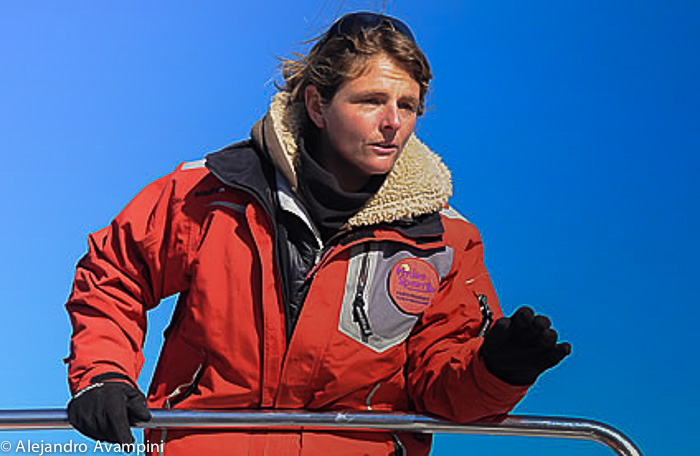 Raised in the Valdes Peninsula and daughter to the first hookah artesian fisherman to set up camp in the Riacho Estuary of Golfo San Jose, the sea has been an integral part of her life. Without losing sight of her sensitive, feminine profile Sofia has educated herself in maritime activities that many a man would find impossible. Specializing in open air activities she is an ocean kayak guide and directs, together with her husband Pablo Passera, Patagonian Explorers. Together they offer excursions exploring and interpreting the Patagoian Coast. Many of their excursions take place along the Valdes Peninsula in the San Jose and Nuevo Gulfs. Sofia is a PADI dive instructor, Argentine Coast Guard approved Professional Diver, Whale Guide and Boat Captain. She has dedicated her life to activities in the sea and over the last 15 years works the whale season as a guide and captain in Hydrosport, her brother Rafael Benegas' whale watching company
Pablo Fioramonti y Ernesto Ricci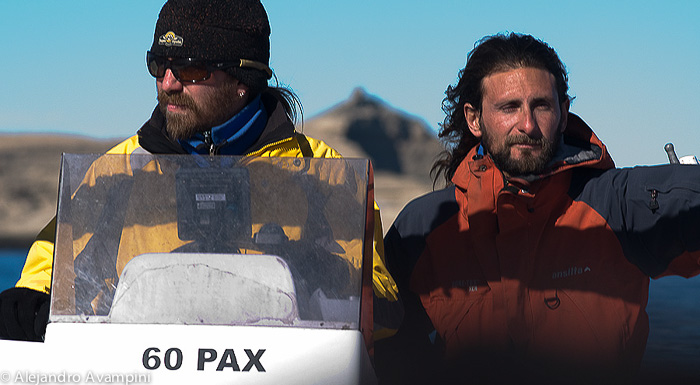 Like most the Whale Watching Captains that live in Puerto Piramides, Pablo Fioramonti is a self-invented man. When he arrived in Puerto Madryn, from his birth place in Greater Buenos Aires, he began working and learning to be a diver in the same company where he is now an international Dive Instructor, Captain and Whale Guide. Working for the same company, Whales Argentina, Ernesto Ricci followed a similar path, working first in the dive industry and exploring every corner of this history in the making. Now, 15 years later, both live life from a different perspective and either can be found at the helm of whale watching boats in Whales Argentina, a company owned and operated by Captain Pinino Orri.
Claudio Nicolini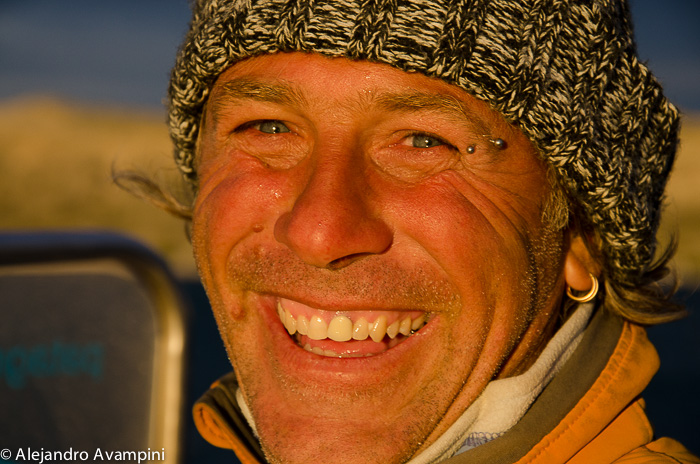 Having arrived from the small town of Cañada Rosquín, in the province of Santa Fe, Claudio Nicolini is a retired football player and fanatic fisherman. Claudio discovered his place in the world in Puerto Piramides, arriving in 1998 in a small trailer and installing himself in the municipal campground, where he lived for several years. Dedicated to work in the sea and contact with nature photography, he could not resist the temptation and naturally began to photograph whales. His passion and unique vision has allowed him to capture unique and privileged moments of the Valdes Peninsula and exhibit his work in different venues, articles, magazines and books.

Now living in his home with a wonderful view of the bay, Claudio is a Whale Watching Guide and Captain, works in diving and swimming with Sea Lions and with his own boat, Deyje ll, offers special tours for documentary film makers and nature photographers from around the world. In the photo, Claudio is captaining Deyje ll for the photographer Gabriel Rojo and cameraman Segundo Serrato in a National Geographic production.
Whale Photographers
With each new whale watching season, national and even more international photographers discover, usually through the internet, the existence of this natural paradise, motivation enough for feeling called to the Valdes Peninsula. From September to December there are several of us, amateurs and professionals, which reencounter every year here in Puerto Piramides. Passion for the whales causes each season to be full of energy and emotion, especially after having suffered their presence during the rest of the year.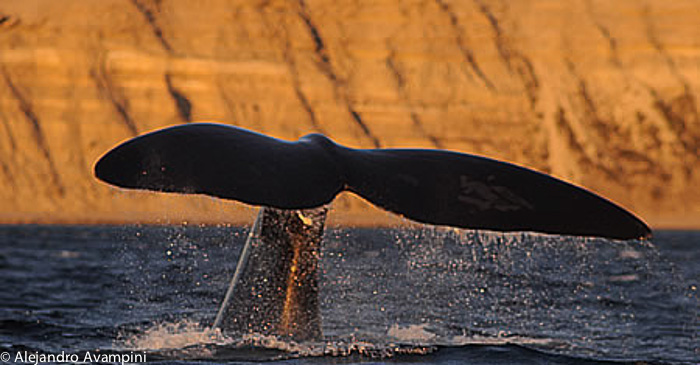 Guillermo Giagante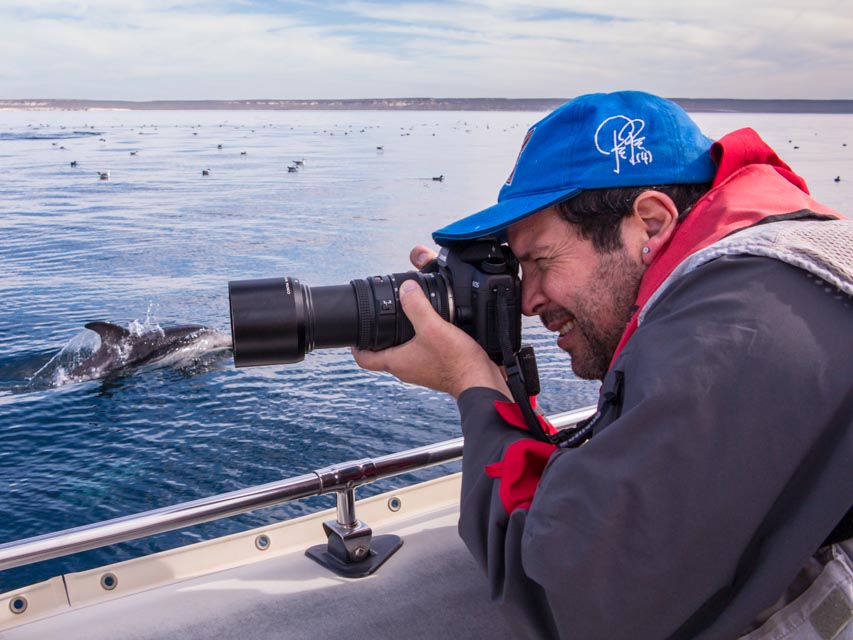 Guillermo is a sensitive artist with a great ability for translating unique moments which play on space and time, into 2 dimensional images. The images he has achieved in the Valdes Peninsula are surprising, whether of crashing waves in Pardelas, the cliffs of Punta Delgada or some other landscape, they appear as if observed in slow motion, with a transparent and unembodied spirit. With this particular vision, his images of the Valdes Peninsula are enjoyable to observe. Guillermo is one of the photographers that come each year with his family, in an almost obligatory pilgrimage, to renew and compliment his existing whale archives.
Ana Ponce y Belén Etchegaray FNA (Argentine Nature Photography)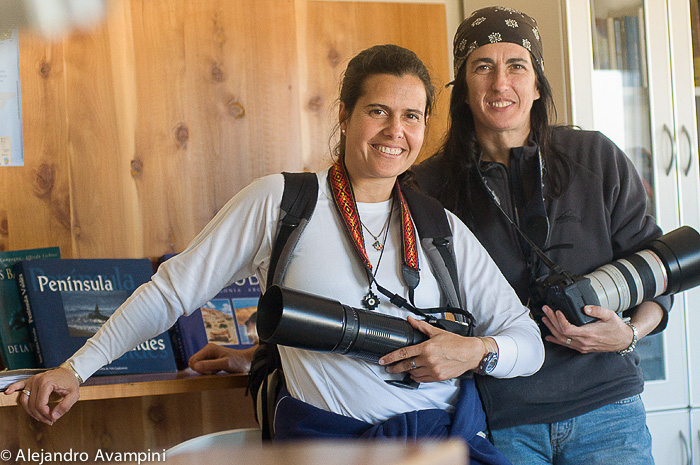 Ana Ponce coordinates Photo Trips and Belen Etchegaray is the director of ANP, Argentine Nature Photography (FNA in Spanish), and they visit us each year with groups of amateur nature photographers. For more information about the Photo-Safaris they organize, I recommend that you make contact. They are very serious about their profession and enjoyable people to be around.
Luis Petitte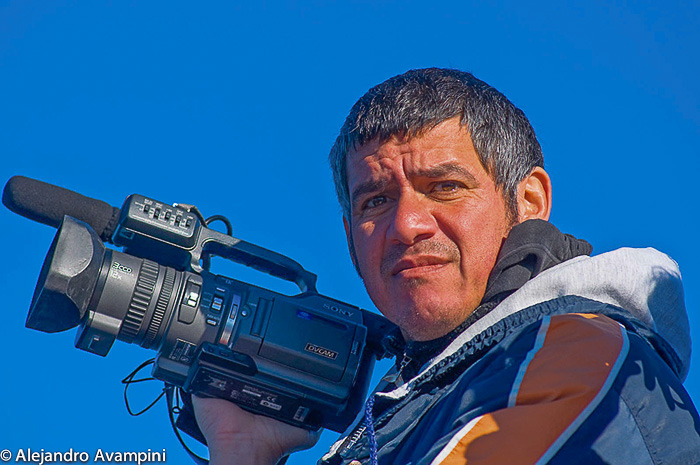 Documentary cameraman and photographer, Luis has made the Valdes Peninsula his home over more than 30 years of documenting its flora and fauna. During whale season Luis spends the better part of each day with the whales, observing and documenting the behavior of these amazing cetaceans alongside the tourists in their whale watching excursions in Golfo Nuevo. His enthusiasm and years of diving experience has allowed him to film the whales up close, in their aquatic environment, dozens of times.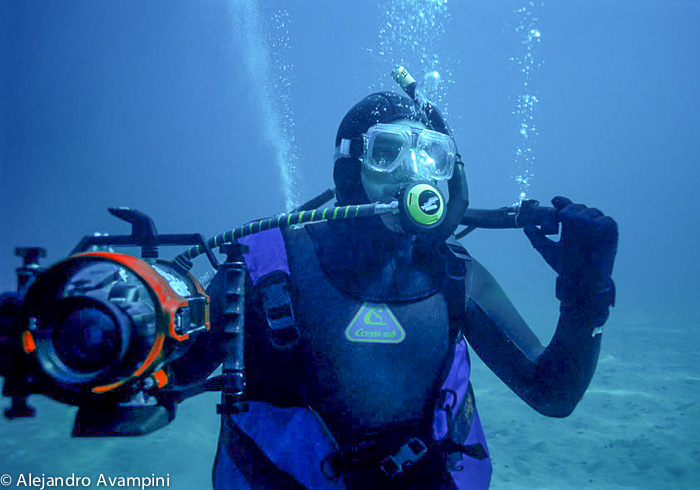 Luis has participated in 9 Orca seasons, patiently waiting close to the attack channel in Punta Norte and capturing unique images of the Orcas of Valdes intentionally beaching themselves in an attempt to capture sea lions while bathed in the sublime light of sunrise. Several of his images have been used in documentary films produced in the U.S., Europe and Asia. Luis is constantly collaborating with different foundations and institutions in the areas of behavior, identification and fund raising. With so much time and dedication, and a camera always in hand, Luis was the first and only photographer in the world to capture images of a Southern Right Whale giving birth. A close and dear friend and easy person to find in Piramides' limited night-life, Luis is always in a good mood, humorous and with a predisposition for making those that surround him feel comfortable.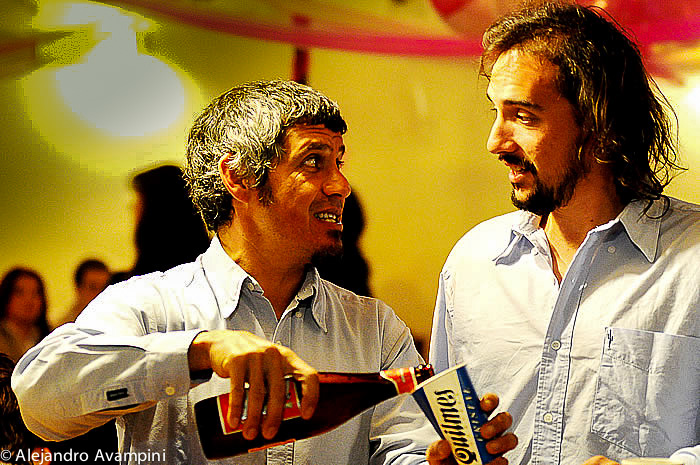 Daniel "The Octopus" Casielles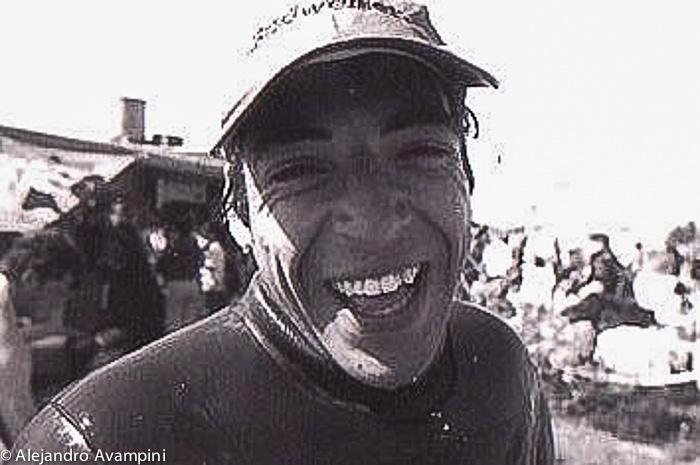 With an innate capacity for learning and understanding, Daniel is an underwater cameraman, editor, and musician. His artistic nature is made evident in many videos and local television productions where his work is presented. Entirely self-taught, at a young age he saw in Puerto Piramides his place for growth and twenty years later he has developed a life immersed in nature and maritime activities. Below is an unforgettable example of his work. This video was captured on the 10th of May, 2008 when a group of aprox. 150 Pseudo Orcas appeared in the bay of Puerto Piramides, coinciding with the eruption and activity of the Chaiten Volcano in Chile. The volcanic ash from this eruption was blown west until reaching the shores of Golfo Nuevo. For several days the horizon line was lost in a foggy haze of ash and the Pseudo Orcas appeared, swimming non-stop back and forth in the bay, as if disoriented. A possible theory is that the minerals found in the suspended ash disrupted their echolocation, disorienting their natural guidance abilities. The reality was an unusual situation with unique, warm, natural lighting, ideal for documenting these rapid marine mammals, a rare situation immortalized by Daniel's video.

Alexis Fioramonti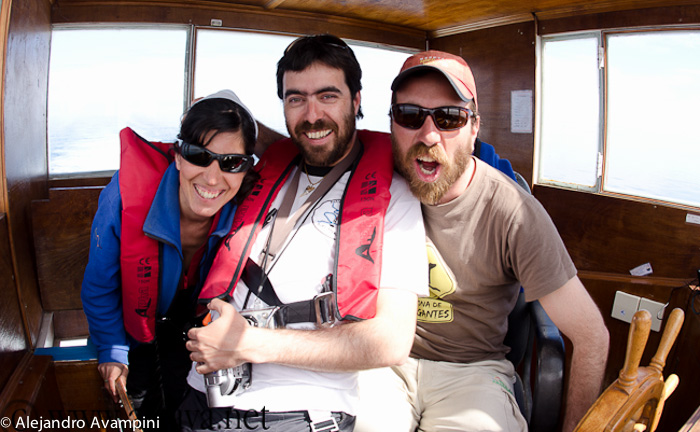 A relaxed member of the aquatic community, Alexis is found in the photo above between Paula Torres and his brother Pablo, at the helm of Whales Argentina's whale watching catamaran. Alexis first arrived in Puerto Piramides, when still very young, to visit his older brother. He fell so in love with the town that he grew into and formed his personal and professional life in Puerto Piramides. He began his career as a cameraman working for Luis Pettite, as with many of the whale photographers in town. Having earned his space in the maritime realm as well as the artistic, Alexis is also now a whale watching captain and whale guide who has forged his identity in the local maritime community.
–Stephen Jhonson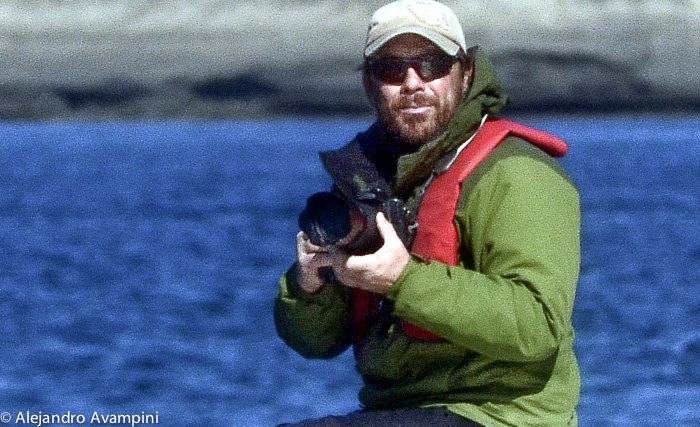 With a Fervent and unconditional love for nature and far from his birth place in Utah, Stephen made his way into Puerto Piramides almost 20 years ago. Attracted to the sea and the unique energy of the whales he began photographing these amazing cetaceans while working for Luis Pettite. For more than ten years Stephen has and continues to work as a photographer aboard the whale watching boats of Jorge Schmid, Punta Ballenas, on the second access road to the beach. Stephen also dedicates much of his time to underwater photography and some of his work and observations can be seen on his blog. The photograph below is just an example of his artistic expression in the depths. Stephen has collaborated for many years with different foundations and institutions and has been invited to exhibit his work in different galleries.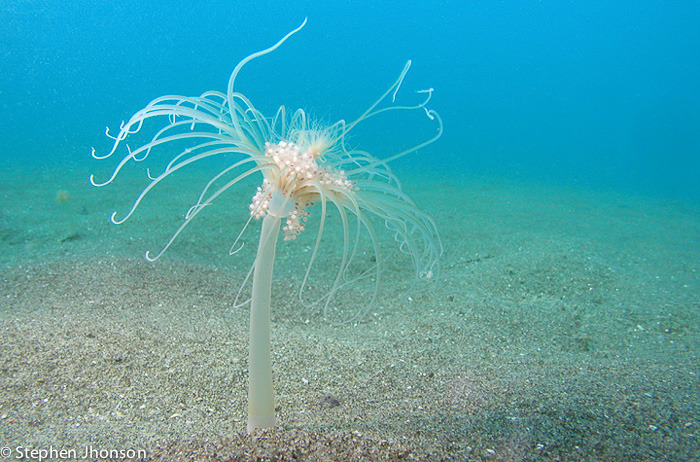 Angel Velez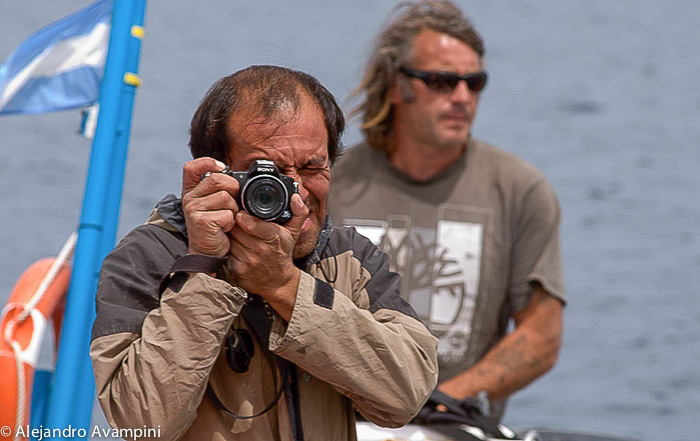 Without a doubt, Angel is a photographer that has reached the heights, having established his office in the crow's nest of Whales Argentina's Catamaran. The images he has captured in 15 years of work on the sea have been published in the most diversified ways, from varying editorials to giant billboards along the 9 de Julio avenue in Buenos Aires. With this original perspective and angle, he has achieved aerial images difficult to capture due to the movement of the crow's nest and impossible images for those who suffer motion sickness. He has collaborated in photo-identification of the whales along with other scientific projects. In the posted image, the catamaran navigates amongst orcas while Angel captures his amazing images.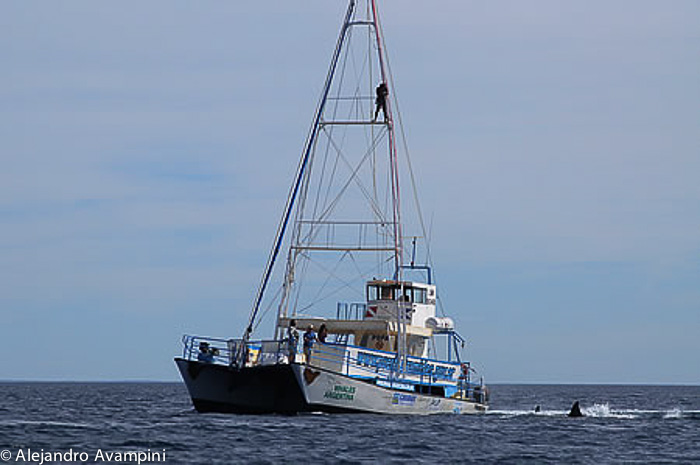 Jorge Barone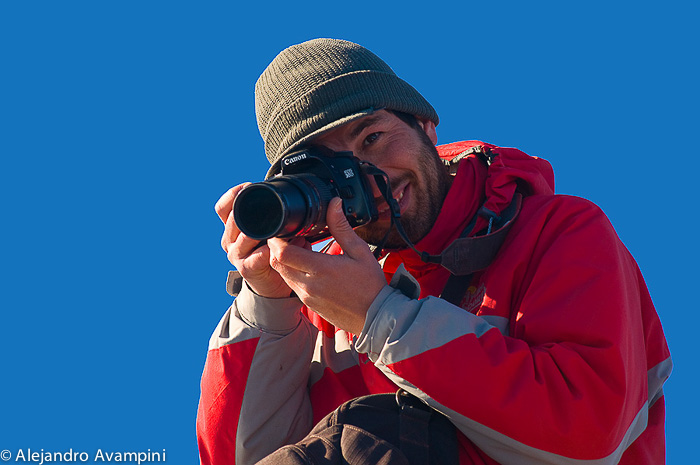 Often surreal and juxtaposed, the images created through Jorge's visión of whales and whale watching tours are just as captivating as his photographic work with the local artesian fishing communities. Jorge studied photo journalism and worked as an independent photo journalist for different national and provincial magazines and newspapers. Jorge and his family left greater Bs. As. many years back to call Puerto Piramides their home, a change in air that allowed Jorge to become a reference in Argentine maritime photography. Jorge often gives photographic clinics and courses and continues to collaborate and actively participate in varying educational areas.
Nacho Corbalán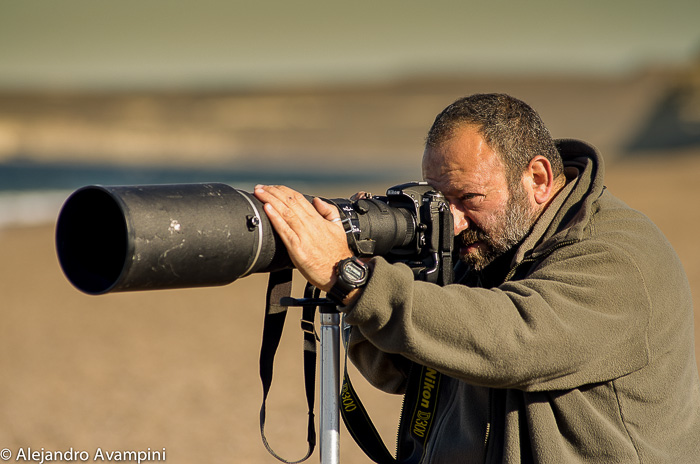 With an innate don for observation he knows how to capture each moment with a special sensitivity that has been his from birth. Continuing is his father's profession it could be said that in his core he breaths photography. Many years passed before returning to a place he had frequented since 1994, when he came to photograph Orcas in Punta Norte. Aside from Orca attacks he obtained wonderful portraits of the park ranger, Beto Bubas amongst other characters of the Valdes Peninsula. His whale photographs have brought life to many National Tourism campaigns. In his 30 years as a professional photographer he has been published in as many editorials as can be imagined and with equally varied subjects. Nacho has worked for Perfil, Atlantida, Clarin and others, his images standing out in their graphic publications.
Each photograph tells a story
The following photo of a whale watching tour was taken a couple of years ago from the panoramic window of the top floor apartment of Del Nomade. Sitting comfortable inside while watching whales is a priceless experience and I think that this image speaks for itself. I have enlarged the subject matter from the original photograph to better ilustrate the situation.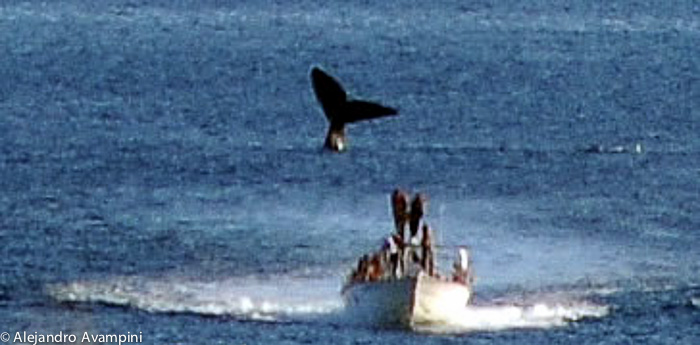 Observe the size of the whale's fluke in relation to the whale watching boat. This image was taken with nothing more than an 80-200mm lens and a Nikon D-90 camera at a distance of at least a km.
This video talk about the history of Whale watching in Puerto Piramides –Valdes Peninsula