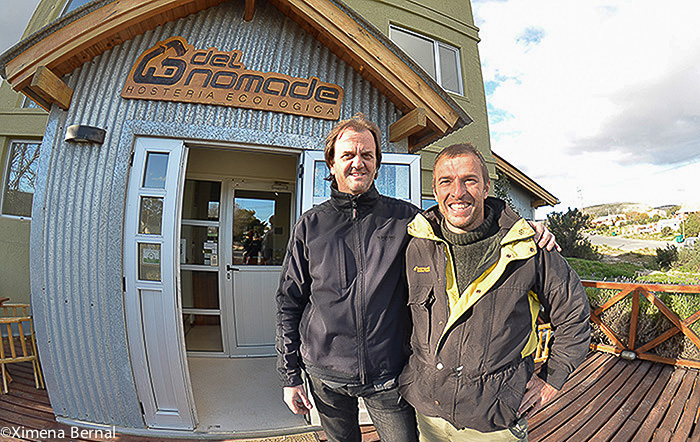 Whale Watching season creates intense seasonal activity y Puerto Piramides and Valdes Peninsula. Waiting during the off season for the whales to arrive and the possibility of navigating Golfo Nuevo in their presence wakes the adventurous appetite in all of us. Either by large Catamaran, small boat, RIBs or in the new innovative semi-submersible Yellow Submarine, providing underwater views, you will board in Puerto Piramides, the only authorized port for whale watching in Valdes Peninsula.



In honor of the Argentine saying "God makes them, and they find each other", Del Nomade Eco Hotel is the corner where nature photographers and cameramen will be found in Puerto Piramides. An ecologically friendly hotel designed by and for photographers, where each room is made comfortable with thermal regulated flooring and electrical plugs in abundance.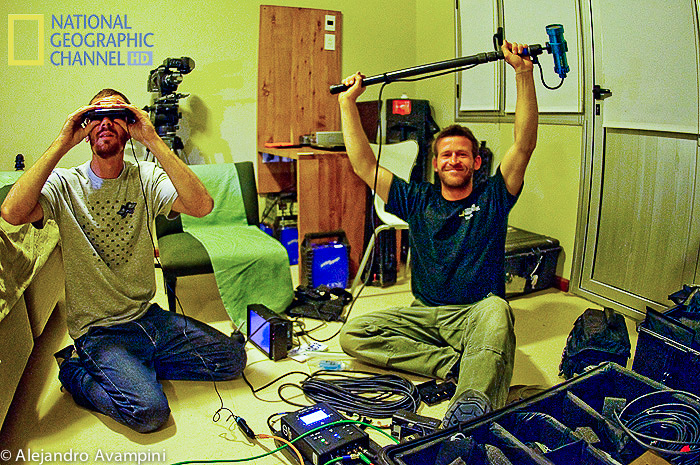 Fortunately, during the waiting months when there are no whales in sight other seasonal encounters offer alternatives for the adventure photographer. Yes, in Valdes Peninsula there are other animals and wild savage nature, outside of whale season, to be observed, photographed and to stimulate your senses.



Aside from whales, nature and wildlife photography in Valdes Peninsula includes, amongst others species, Orcas, Penguins, Elephant Seals and Sea Lions, the last of which can be experienced up close swimming or diving with them throughout the year. From September through April the Valdes Peninsula is home to a number of important and large marine animals. Whales abandon the area in December, migrating towards their feeding grounds far from Valdes Peninsula, but many other species remain.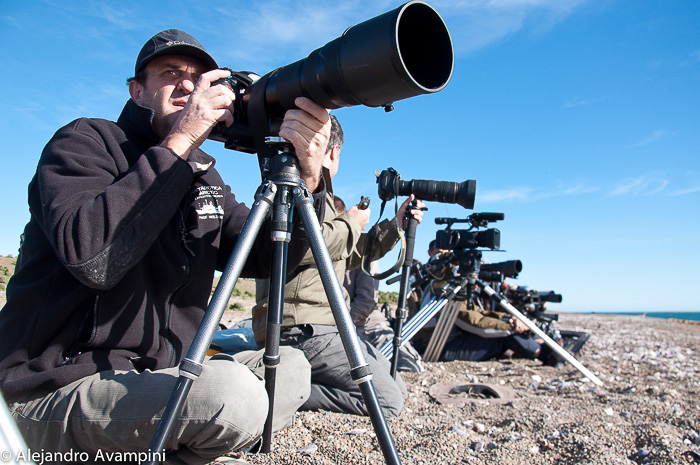 This particular situation puts Puerto Piramides, with its 500 inhabitants, at the heart of theValdes Peninsula Nature Reserve and World Heritage Site, the epicenter of activity for documentary film crews and nature photographers.
Aside from several colleagues that live in Puerto Piramides and work in the realm of nature photography, the rest of the locals capture some amazing images as well, taking advantage of the good fortune that surrounds them in this unequalled natural environment. The photographers are the ones that usually find a different point of view through their lenses, unveiling natural beauty from another perspective, and exposing glorious moments frozen in an image for all of time.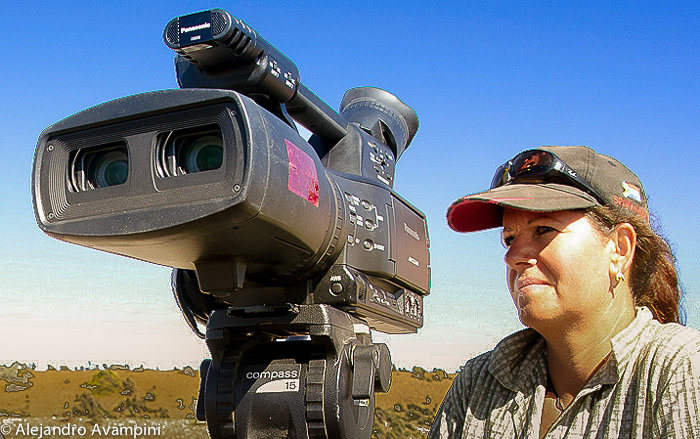 The constant advances in technology make their presence felt all the time in Valdes Peninsula. Television production crews like Discovery Channel, Animal Planet, National Geographic and others from around the world arrive each year with the latest in imaging technology to document wild nature with the best definition and techniques possible.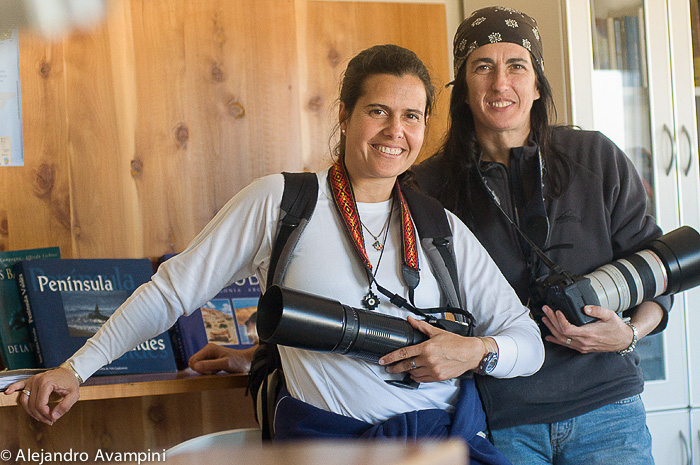 At Del Nomade Ecological Hotel there are visitors whose annual return over the course of many seasons, has made them a part of Del Nomade. Two of these regulars are Ana Ponce and Belen Etchegaray of FNA (Argentine Nature Photography), who come each and every whale season with groups of amateur nature photographers. They use this incredible destination to put into practice the techniques they have learned in the FNA photography classes.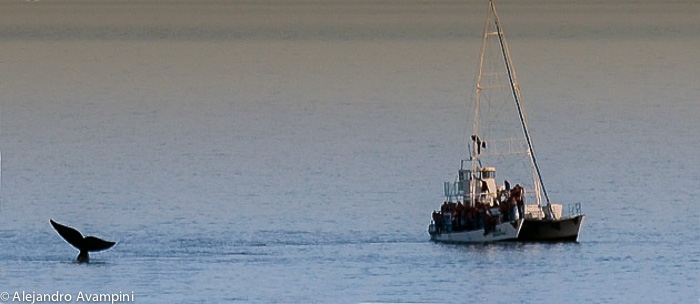 A fascinating world for those with a passion for nature, wildlife and the sea. This unique place of adventure is the ideal ground for nurturing the seeds of liberty and filling ones senses with freedom.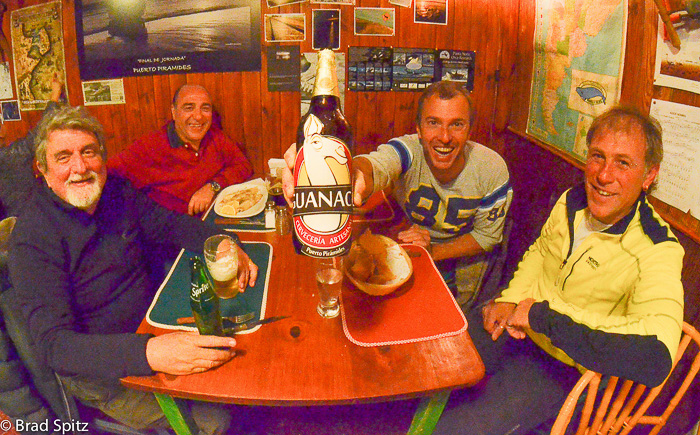 The evenings are shared with colleagues, friends, tourists, whale boat captains and guides in the several bars and restaurants that are scattered throughout our tiny town. The day's adventures are shared around the table at night, all a part of the same story. "Guanaco" artisan beer pub and restaurant is one of these meeting places. With pizzas, pastas and a variety of artisan beers on tap and in bottles combined with a warm, inviting and adventurous environment this is one of the places I recommend for nature lovers and wildlife photographers alike.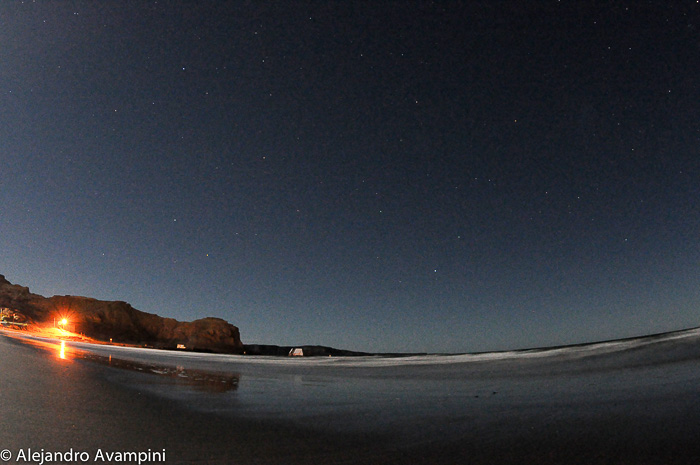 Before heading off to your room to sleep, I suggest a walk along the beach, with small waves breaking and the occasional breathing of a whale as a background soundtrack and the milky-way blanketing the night sky, bringing to a close a day far from the norm.