If planning a trip to Valdes Peninsula to observe and photograph of wildlife, it is a good idea to know when and where the animals are found. Although wildlife can be observed throughout the entire year, the largest concentration of species and activity is from September through April.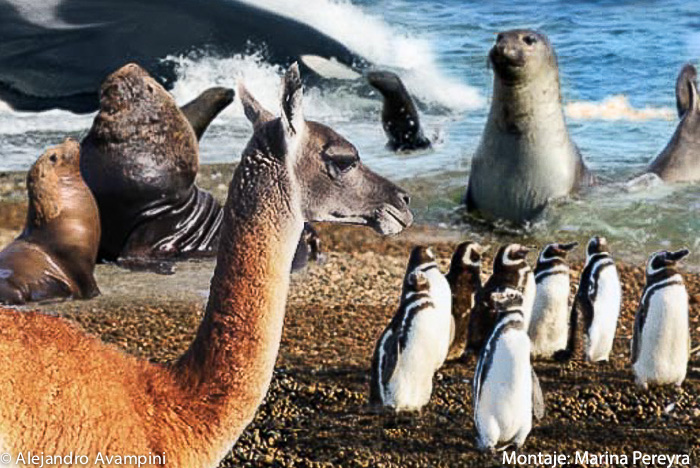 The perfect time to visit, when the natural beauty of  Valdes Peninsula is in full form, is from whale watching season up through the end of Orca season. The rest of the year, May to August, is usually a period of adverse climactic conditions with short days, cold, cloudy, more frequent rain and strong winds. These four months are best avoided if your goal is wildlife. During the other eight months of the year this unique region is transformed into an amazing natural paradise. 
Detailed Marine Wildlife Calendar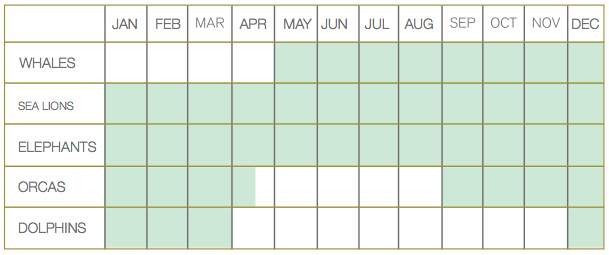 The Valdes Peninsula Wildlife Calendar functions as a general guide for understanding when and where the different species are found in the reserve. Behavior varies as the weeks pass and for this reason detailed information on each species is provided below for a better understanding of their progress and transformations during this vital period.
Southern Right Whale

More than 2.000 Southern Right Whales (Eubalaena australis) visit Valdes Peninsula each season. Between April and June their arrival begins and the last individuals can be observed from whale watching boats as late as the end of December, before returning to their feeding grounds. The Valdes Peninsula is considered the largest reproductive area in the world for this and other species.
Magellanic Penguin

Nearly 500,000 Magallanic Penguins arrive each year in September to reproduce, raise their young and molt along the coast of Valdes Peninsula, returning once again to the ocean in April.
South American Sea Lion

Thousands of One-Haired Sea Lions live in Valdes Peninsula year round. They will change colonies depending on the season and their reproductive behavior. In December, the dominant males with gather and defend harems of between 2 and 12 females in reproductive colonies like the one at Punta Piramide. Pubs are born in January and February after a year of gestation and a few months later the Sea Lions will return to their previous colony.

There are close to 30 Orca individuals that live along the coast of Valdes Peninsula and can frequently be observed in Punta Norte from early march through April and in Caleta Valdes during the months of October and November. The young pups of Sea Lions and Southern Elephant Seals respectively, born a few months earlier, begin to explore and play along the shore, providing yet another resource for the Orcas. The extremely risky and unique technique of Intentional Beaching, that only a few of the individuals practice, provides valuable calories that are shared with the family group in deeper waters.  This is a fragile technique that only exist is these waters with these orcas.
Southern Elephant Seal


Valdes Peninsula is home to the only continental Southern Elephant Seal colony in the world and the numbers that gather along the coast from September to December are impressive.
Dusky Dolphin


Dusky Dolphins are frequently observed in the waters that surround the Valdes Peninsula. Although they are seen throughout the year, the possibilities are higher and usually observed in greater numbers during summer
Here I have provided a group of Virtual Guides with the most common species and a few of the not so common animals found in Valdes Peninsula. This edition was created initially for those who stay at Del Nomade Eco-Hotel, my special corner in Puerto Piramides.